John Deere 755B Crawler – How to Remove & Install a Track Frame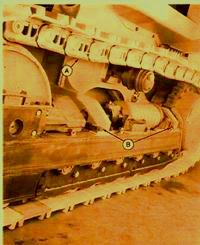 John Deere 755B Crawler – How to Remove & Install a Track Frame
March 26, 2019
Comments Off

on John Deere 755B Crawler – How to Remove & Install a Track Frame
At our Hydrostatic Pump Repair Site, we offer many types of Hydrostatic Transmission Repair and information relating to Hydrostatic Parts
Today we will discuss:
Remove and Install Track Frame
Release track tension and separate track chain (A).
Remove spring covers
Remove cap screws (B).
Be careful and raise crawler high enough to remove track frame and support unit using shop stands.
Use a hoist and chain to remove track frame.
Make repairs as necessary.
Use hoist and chain to reinstall track frame assembly under crawler frame.
Carefully lower crawler on track frame assembly.
Install cap screws and washers. Tighten cap screws (B) to 908Nm (670 lb-ft).
Connect track chain (A)
Adjust track sag.
Install spring covers.
If you need further assistance on this topic, please leave a comment.
You may also call us at 800-361-0068
email: sales@hydrostatic-transmission.com
www.hydrostaticpumprepair.com