Sundstrand Sauer Danfoss Series 20 – Neutral Start Switch Check Part 1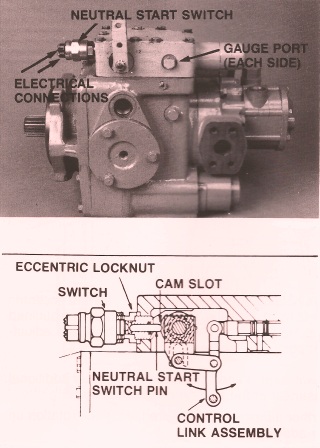 Sundstrand Sauer Danfoss Series 20 – Neutral Start Switch Check Part 1
August 1, 2016
Comments Off

on Sundstrand Sauer Danfoss Series 20 – Neutral Start Switch Check Part 1
At our Hydrostatic Pump Repair Site, we offer many types of Hydrostatic Transmission Repair and information relating to Hydrostatic Parts
Today we will discuss:
Sundstrand Sauer Danfoss Series 20 – Neutral Start Switch Check Part 1
If you want to have your switch operate correctly, you will need to install the external control linkage.
Put a 300 PSI gauge in to the pressure gauge port on each side of the control.
Attach a checker to the screws on the end of the neutral start switch.
Double check the control that it is in neutral position. Electrical steadiness an be attained by seeing if there is constancy in the checker.
To make the switch work right and stay at a constant rate, a pin that is located in the switch mounting collar has to be secure in a cam slot in the internal control devise.
When moving the control handle in either direction, the pin comes out of the slot and actuates the switch to stop the circuit. The constancy need to be delayed so that an equal amount of handle rotation is in both directions.
Note: if you have achieved interrupted constancy in either direction, while in neutral..then proceed to step 8…
which we will get to in another segment.
If you have any questions, please let us know.
Call 800-361-0068
Email: sales@hydrostatic-transmission.com