Sundstrand Sauer Danfoss Series 40 M46 Disassembly for Fixed Displacement Motor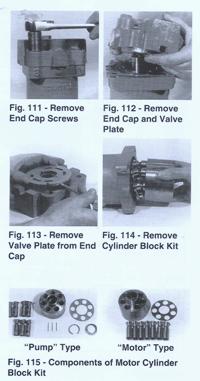 Sundstrand Sauer Danfoss Series 40 M46 Disassembly for Fixed Displacement Motor
February 29, 2016
Comments Off

on Sundstrand Sauer Danfoss Series 40 M46 Disassembly for Fixed Displacement Motor
At our Hydrostatic Pump Repair Site, we offer many types of Hydrostatic Transmission Repair and information relating to Hydrostatic Parts
Today we will discuss:
First remove the shaft seal.
Put the motor on a work surface bench with the endcap up. Take out the four hex head screws, that hold in the end cap to the housing.
Take out the endcap with the valve plate.
The gasket will come out next from the housing.
Then the valve plate.
Laying the housing on its side and get the cylinder block kit out from the housing.
Next the piston assembly and slipper guide from the cylinder block.
If your unit has a "pump" cylinder block assembly, take the slipper guide retainer (with splined washer on certain units), the slipper hold down pins and pin retainer from the block.
Previous models that are equipped with "motor" cylinder block assemblies don't have a separate slipper guide retainer, hold down pins and pin retainer.
Leave your comments and questions and we will be glad to get back with you.
Call 800-361-0068
email: sales@hydrostatic-transmission.com