Eaton Series 11 Hydraulic Pump
Eaton Series 11 Hydraulic Pump
October 12, 2022
Comments Off

on Eaton Series 11 Hydraulic Pump
On A. the transmissions that have sealed bearings need an oil seal under the output bearing. When plausible put in the oil seal in the body so the rubber lip is facing toward the counter bore in the body. Push the seal in the bottom locale in the counter bore. Try not to push to hard it could cause the rubber seal not to seal properly. Next put in the output bearing. Place the bearing on the body and push on the outer bearing race to the bottom spot in the body. Put the bearing retaining ring in. Put in the output shaft and it is a tight fit. Hold up the the inner race of the ball bearing and push the shaft up in the bearing.
On B. put in the body and line up the output shaft with the bearing that is in the pintle and shaft cross in that goes in the slot in the motor rotor assy. Screw in two cap screws and put some torque on it. You will need to make sure the output shaft can loosely turn by hand. If you can't turn it by hand, go back and check the how you installed the body.
On C. you will need to fill transmission with some fluid. If your unit flows thru the output bearing, fill it thru the axle to the fluid level. If your unit is sealed output shaft bearings, then fill it thru the reservoir to the fluid level. Next start up the engine and run it either direction at a low speed for a little while to get out an air in the system. You will then need to cut off the engine and check the fluid level again. After you do that, then it is ready for operations.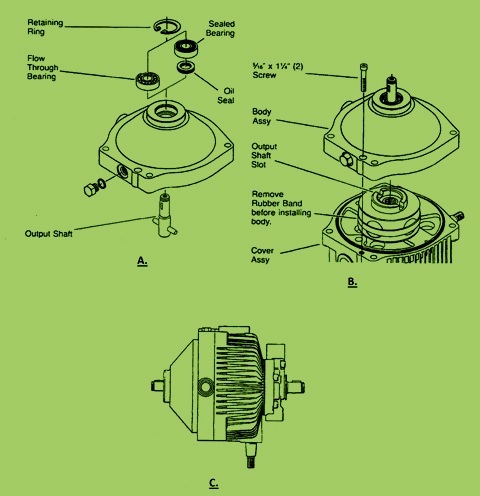 If you need more info on this call us at 800-361-0068
sales@htsrepair.com