Sundstrand Series 20 MDC Control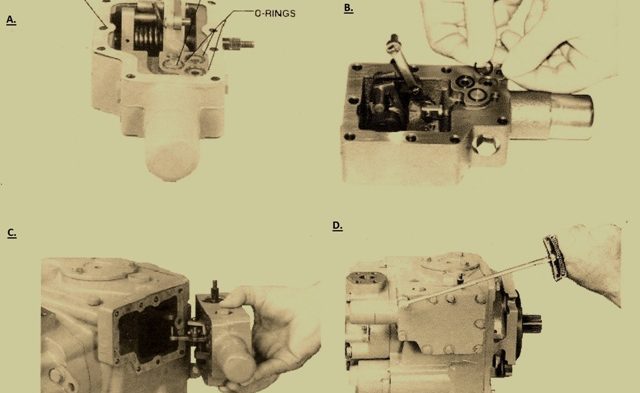 Sundstrand Series 20 MDC Control
October 10, 2022
Comments Off

on Sundstrand Series 20 MDC Control
For the up to date series 20 MDC, the trepan groove has been taken out from around the servo ports on the control. You will need to put in two washers in the servo ports. They are in the kit.
Put the orings in the servo port holes. Put in the washers in the center of servo port holes, make shre the washers stay, put some grease or petroleum jelly on them before hand. Make sure the gaskets are clean and the area you are putting them on. After putting in the gaskets, put in the orifice plate in. This is for A – B.
Put the pin on the control link in the hole that matches the one you are putting it into, so that the small link gets put on the swashplate. Next, make sure the pin goes all the way into the swashplate link. The control needs to go right up against the housing, all the while making sure gaskets and orings are where they are suppose to be. Put some torque on the screws. Put the control handle over the serrated shaft, put the lock washer and hex nut on and torque it. This applications if for controls that go on variable displacement pumps, (but not the open circuit) and motors. This is for C and D.
If you have questions about how to install this or if you need us to do your repairs for you. Call us at 800-361-0068
sales@htsrepair.com