Eaton Series 1 Models 33 thru 64
Eaton Series 1 Models 33 thru 64
October 17, 2022
Comments Off

on Eaton Series 1 Models 33 thru 64
Special Tools
A. * 1.5 in from shaft with splined drive for b pad charge pump. The material is c.r.s. and harderns to rc 50-55.
B. The material on this is SAE 1074, Spring Steel 16 ga. x .75 wide
C. 5/16 18 UNC Cap Screw – 2 needed. Take out the head and grind the end, so it looks like a cone.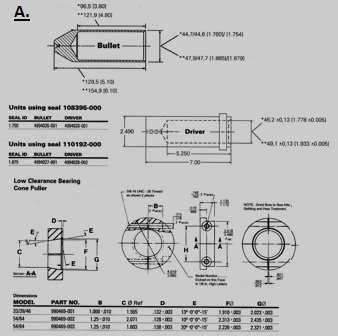 Every seal needs to use a unique bullet and driver. Make sure of your measurements or part numbers, so you use the right one for your unit. It comes in mm measurements. (* use this seal 108395-000 and ** units use this seal 110182-000).
On the dimensions chart, the material stentor is 45-55 R(C) Heat Treat.
If you need more info on using special tools to take out or put in different types of parts, call us at 800-361-0068
sales@htsrepair.com