Denison Goldcup 8A, 7A & 6C – Gerotor and Barrel Hold Down
Denison Goldcup 8A, 7A & 6C – Gerotor and Barrel Hold Down
September 8, 2022
Comments Off

on Denison Goldcup 8A, 7A & 6C – Gerotor and Barrel Hold Down
Put the in alignment with the valve block mounting area while it is in the up position. Turn the shaft til the small keyway that is in the auxiliary shaft reads at 12 o clock position. If you need it to be right hand put in a dowel pin in the hole that is located at a 9 o clock position and if you want a left hand put the dowel pin in a 3 o clock position.
Put in side plate, steel side first while it is over the dowel pin. Stick key in the shaft keyway. Put in the inner gear of the gerotor assy on the shaft that goes over the key. Next put in the eccentric ring on the dowel pin.Place the large outer gear of the gerotor assy so it goes inside eccentric ring while going over the inner gear.
Push the needle bearing into the gerotor side plate where the mark that is on the end of the bearing seated next to the pressing tool. On the marked end of the bearing plate it needs to b .010 to .025 below the small diameter front of the side plate.
Put the orings and on the side assy. Put grease on the orings and slide the pressure plate over the orings on the side plate assy. Slide the two plates over the auxiliary shaft and place the gerotor side plate over the dowel pins.
The seal ring goes on the auxiliary shaft. Place the bearing between two thrust washers and put in the seal ring. The thread holddown nut on the shaft and use torque of 10ft lb and no more than 13 ft lb. Step back on the nut til the second slot is aligned with pin hole for the shaft. Put in the pin thru nut and shaft and tighten it up with the ring.
If it is not a smooth rotation, check assemble of gerotor again. But if it is good, put the oring on end cover and grease it up. Put end cover over the holddown nut, push cover and put in snap ring. Put the snap ring down in the groove is a must. Put in the other o ring on the plug and grease and put on end cover.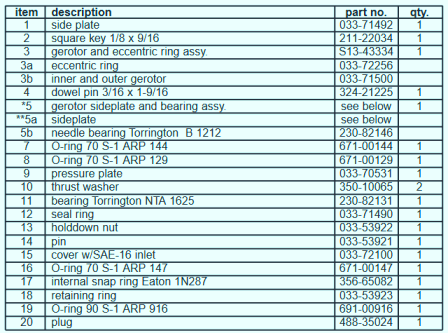 If you need further guidance on this topic, call us at 800-361-0068
sales@htsrepair.com