Eaton Series 1-3 33-64 Fixed Displacement Motors – End Cover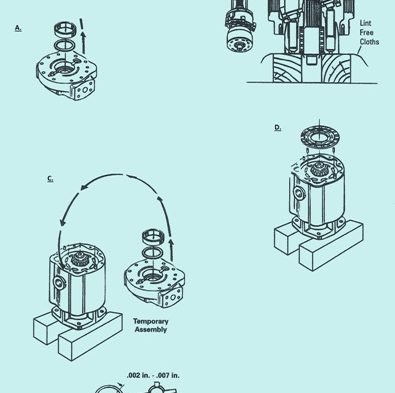 Eaton Series 1-3 33-64 Fixed Displacement Motors – End Cover
August 29, 2022
Comments Off

on Eaton Series 1-3 33-64 Fixed Displacement Motors – End Cover
A. Put in two dowel pins and the gaskets over the end cover. Make sure you put grease and put in the bearing shims and bearing cup into the cover.
C. Make sure there is no end play in the output drive shaft. Put in the end cover, but don't put in the valve or the bearing plates. This will get rid of having the spring tension going up next to the output shaft. Put the screws in and tighten them up. While the motor is supported, tap ever so easy the shaft inward with a hammer. Next put in the magnetic base indicator on the mounting flange with the gauge on the output shaft end. You might need some pliers to get ahold of the ouput shaft. Your indicator needs to be .002 – .007 in. shaft end play. If it not right just adjust by adding shims or taking them away under bearing cup.
B. & D.
After you are done fixing the end play, you will need to put motor where you want it on the mounting flange and take away the end cover. Put the two dowel pins back in on the face of the cylinder barrel. Put grease on bearing plate and dowel pins to and put in the cylinder barrel.
If you need further assistance with this unit or any Eaton Pumps and Motors, give us a call at 800-361-0068 or email us at sales@htsrepair.com