Denison Goldcup Series M6 C/M7 A Shuttle Valve Assy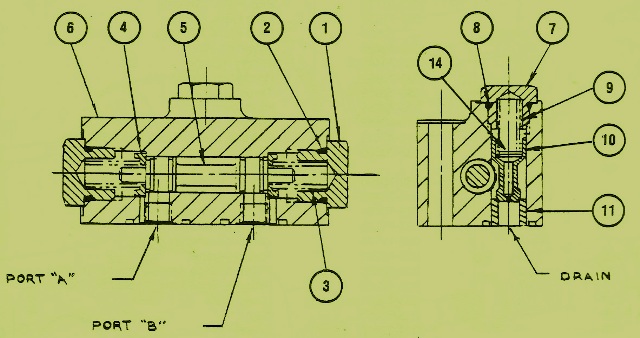 Denison Goldcup Series M6 C/M7 A Shuttle Valve Assy
May 24, 2018
Comments Off

on Denison Goldcup Series M6 C/M7 A Shuttle Valve Assy
Denison Goldcup Series M6 C/M7 A Shuttle Valve Assy
Position the valve assy (20) in a side to side position with the oring groove up.
Make sure the seat (11) is in the 500″ diameter bore until it is even with the body surface.
Put in the spool (5) into the body bore.
Next put in the spring centering washer (4) over each one and of the spool.
Put the springs (3) over the ends of the spool and the sockets as well over the washers.
Put grease on orings (2) and put them over the plugs (1).
Put in the plugs over the springs and the body.
The spool (10) needs to go in the bore against the seat (1).
Put the spring (9) in the spool (10).
Grease the oring (8) and put it in the groove of the plug (7) on internally drained shuttle.
Put the plug (7) over the spring (9) and tighten it up.
The seal (17) goes in next in a counter-bore in the center of the shuttle valve assy.
Keep in place with a coating of grease.
Put two seals in remaining counter-bore.
Place the shuttle valve assy on port block pad and make sure it is fastened good with screws (19).
If you have more questions about this, please call us at 800-361-0068
Email us at sales@hydrostatic-transmission.com