Sundstrand Sauer Danfoss Series 20 Fixed Displacement Motor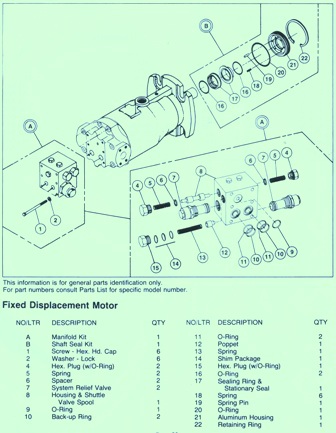 Sundstrand Sauer Danfoss Series 20 Fixed Displacement Motor
September 28, 2016
Comments Off

on Sundstrand Sauer Danfoss Series 20 Fixed Displacement Motor
At our Hydrostatic Pump Repair Site, we offer many types of Hydrostatic Transmission Repair and information relating to Hydrostatic Parts
Today we will discuss:
Sundstrand Sauer Danfoss Series 20 Fixed Displacement Motor
In the diagram of the Series 20 Motor it shows the breakdown of parts. This is very helpful when ordering parts, seeing what parts you actually need when rebuilding or repairing.  And shows the placement of the parts, if you are repairing this yourself.
But keep in mind, it is always good to keep all information about your pump or motor, like tag numbers any markings and take photos also.
But if you need any help with this, please call us or send us an email.
800-361-0068
sales@hydrostatic-transmission.com