Sundstrand Sauer Danfoss Series 90 – Swashplate Bearing Cage Locator Pin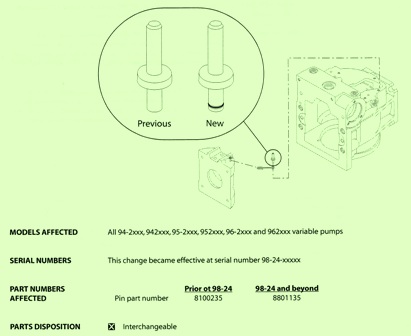 Sundstrand Sauer Danfoss Series 90 – Swashplate Bearing Cage Locator Pin
August 4, 2016
Comments Off

on Sundstrand Sauer Danfoss Series 90 – Swashplate Bearing Cage Locator Pin
At our Hydrostatic Pump Repair Site, we offer many types of Hydrostatic Transmission Repair and information relating to Hydrostatic Parts
Today we will discuss:
Sundstrand Sauer Danfoss Series 90 – Swashplate Bearing Cage Locator Pin
There has been adjustments made to the swashplate bearing cage locator pin that is used in the series 90,55,75 and 100cc variable displacement pumps.
The new lay out  has a rubber gripping element on the portion of the pin that goes in the main housing. The rubber grip helps retain the pin in the hosing while the normal pump assembly and servicing process.. This helps by escalating the interference fit in the midst of the pin and pilot hole in the housing.
To help in showing this change, they have given it a new part number for the upgraded change. It is also interchangeable with the older pin part number. But the older pin is no longer available.
The diagram shows what models have been affected. If you need questions answered on this topic, please let us know.
Call 800-361-0068
Email: sales@hydrostatic-transmission.com