Pump and Motor Combinations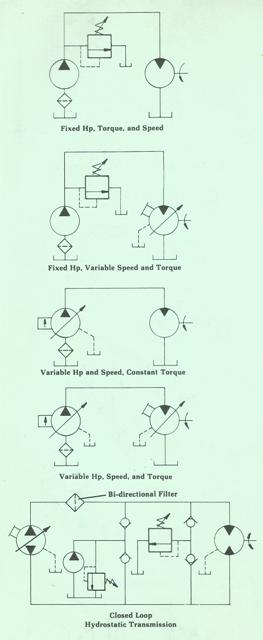 Pump and Motor Combinations
June 8, 2016
Comments Off

on Pump and Motor Combinations
At our Hydrostatic Pump Repair Site, we offer many types of Hydrostatic Transmission Repair and information relating to Hydrostatic Parts
Today we will discuss:
Pump and Motor Combinations
Certain types of pumps and motors can be put together to give different system requirements for different applications.
A constant displacement pump in combination with a fixed displacement motor produces a fixed hydraulic horsepower put out by the pump. The torque and shaft speed are constant with the motor.
A constant displacement pump with a variable displacement motor will give you a fixed hydraulic horsepower that is delivered in the motor. The shaft speed and torque are variable at the motor.
A variable displacement pump combined with a fixed displacement motor yields a constant torque at the motor. The pumps flow rate could be changed, the horsepower is handed to the motor and the motor shaft speed can be varied.
A system that handles both a variable displacement pump and a variable displacement motor has the capacity of using a variable speed torque and horsepower.
If you would like to chime in on a comment about this subject or need to ask a question, please let us know.
Call 800-361-0068
email: sales@hydrostatic-transmission.com