Sundstrand Sauer Danfoss M46 Tandem Pump Repair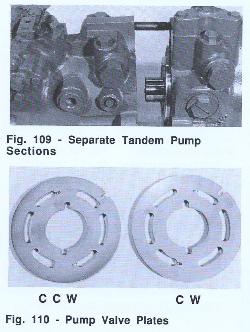 Sundstrand Sauer Danfoss M46 Tandem Pump Repair
February 17, 2016
Comments Off

on Sundstrand Sauer Danfoss M46 Tandem Pump Repair
At our Hydrostatic Pump Repair Site, we offer many types of Hydrostatic Transmission Repair and information relating to Hydrostatic Parts
Today we will discuss:
Repair Procedures for Tandem Pump
Before doing repairs to the pump, take out the external components:
Shaft Seal
Auxiliary Mounting Pad (where applicable)
Control
Filter Adapter
Charge Relief Valve
Charge Check/High Pressure Relief Valves
Bypass Valve
And you need to separate the tandem pump into two groups and take out the charge pump parts and pilot ring.
Then remove these parts, the pumps sections may need repairing.
The sections of a tandem pump are mounted "back to back", each section will have a different valve plate installed. A CW rotation unit will have a clockwise  valve plate installed in the plate in the rear section. A counterclockwise unit will have a CCW valve plate installed in the front section.
Following repair, install the charge pump parts or pilot ring and rejoin the pump sections  parts back in. Making sure to clean all parts, lubricate them and to replace all gaskets and O Rings before reinstalling them. Do not need foreign particles in your unit.
We love hearing from you, so leave us a comment.
Call us at 800-361-0068
email: sales@hydrostatic-transmission.com