Hydraulic Pump Differential Unloading Relief Valve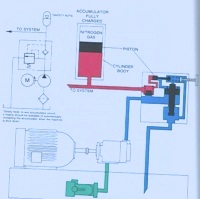 Hydraulic Pump Differential Unloading Relief Valve
February 1, 2016
Comments Off

on Hydraulic Pump Differential Unloading Relief Valve
Today's topic is Differential Unloading Relief Valve:
When the accumulator is charged, the piston is forced toward the pilot dart and forces the pilot dart completely off the seat. Thus in effect releases the main spool spring chamber of pilot pressure. The relief valve is vented. The spool moves up and allows flow to go to tank at a low pressure. At the same time the check valve closes so that the accumulator cannot discharge through the relief valve. At this point one pressure ha been achieved — the accumulator's maximum pressure.
If you would like to know more about this and any other questions you may have, let us know. We will be glad to help.
800-361-0068
info@hydrostatic-transmission.com