Denison 6C Axial Piston Pump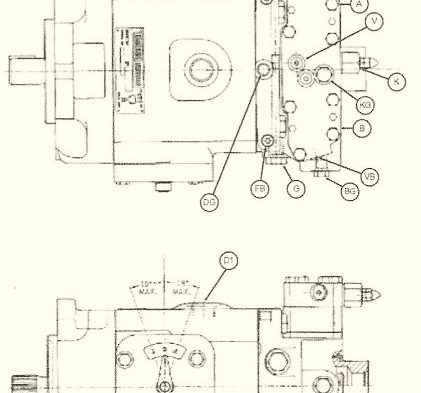 Denison 6C Axial Piston Pump
June 20, 2022
Comments Off

on Denison 6C Axial Piston Pump
When the rocker cam comes in practice to help with the pump displacement that gives a smaller size, helps with wear, speeds and control support. To get rid of linkage and backlash concealed in stroking cylinder models use a vane actuator to help control it. Most common controls are rotary servos and compensator over rides.
You can use this pump in many positions. It has a two bolt mounting flange. The shaft needs to be lined up with the shaft of the driving load, you can keep a check with a dialing indicator. The mounting pad and the pump pilots need to be operating together so there is no bearing malfunction. The shaft and driving load need to be in one accord if it is not connected well, if you don't want to use a coupling.
If you use a keyed shaft it needs to have a treatment put on it that deals with high heat situations. And when splined shafts are used make sure you lined up the male and female splines axes.
The flanges are C or D. The C load is 170 lbs. and D is 215 lbs for side loads.
Hook up inlet and outlet connections to the port block.
Your case pressure is 75 PSI and running all the time is 125 PSI. You shouldn't have your case pressure go over the inlet pressure more than 25 PSI. All your fluids lines need to be the correct size to handle the flow thru the pump. And always make sure it is free of debris or it will contaminate your whole system.
The fluids need to be fire resistant. Make sure your case pump housing always has fluid in during operation and idling.
If you need more info on this, call us at 800-361-0068
sales@htsrepair.com