Denison Goldcup Series 6 & 7 Housing Assy Part 2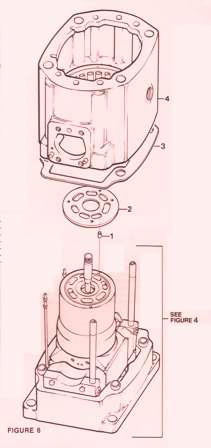 Denison Goldcup Series 6 & 7 Housing Assy Part 2
June 19, 2017
Comments Off

on Denison Goldcup Series 6 & 7 Housing Assy Part 2
Denison Goldcup Series 6 & 7 Housing Assy Part 2
Put the face plate pins (1) in the holes that are in the barrel face.
Put a generous amount of grease to the surface of the barrel and put in the face plate (2) over the face plate pins.
Added Note: You will need to make sure the face plate is correctly place on the barrel and pins with the steel side towards the barrel face. Looking on the face plate, one side is bronze and that side has to be toward the port plate. And if you have to, take off the coating to tell which side is which.
Put the gaskets (3) over the two dowel pins in the mounting flange.
Put in the housing assy. (4) over the barrel and auxiliary shaft assy. Being extra careful to put the override tubes and pressure feed tubes #2,5 and 6 thru the housing assy. Put the pressure feed tubes in the slots in the housing face.
If you have questions about this, let us know 800-361-0068
sales@hydrostatic-transmision.com