Hydrostatic Transmission Service Warranty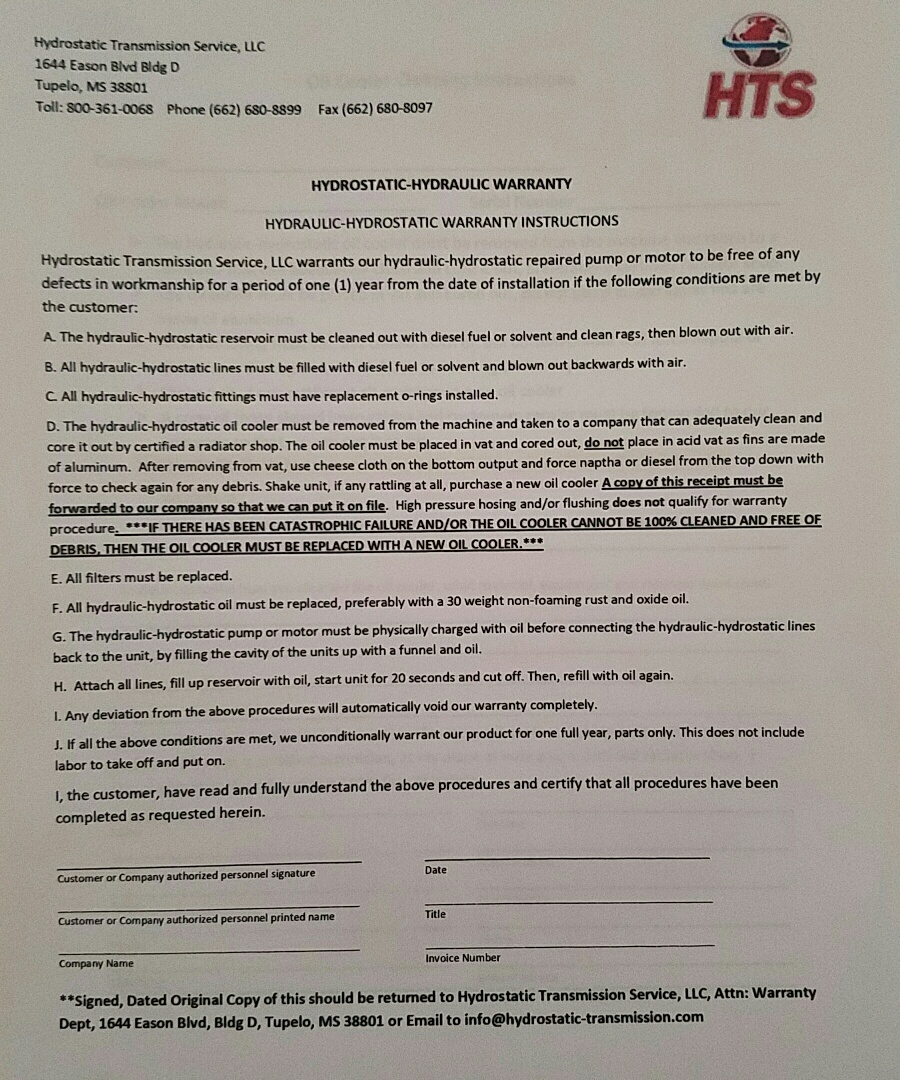 Hydrostatic Transmission Service Warranty
March 10, 2017
Comments Off

on Hydrostatic Transmission Service Warranty
Hydrostatic Transmission Service Warranty
Hydrostatic Transmission Service, LLC warrants our hydraulic-hydrostatic repaired pump or motor to be free of any defects in workmanship for a period of one (1) year from the date of installation if the following conditions are met by the customer:
A. The hydraulic-hydrostatic reservoir must be cleaned out with diesel fuel or solvent and clean rags, then blown out with air.
B. All hydraulic-hydrostatic lines must be filled with diesel fuel or solvent and blown out backwards with air.
C. All hydraulic-hydrostatic fittings must have replacement o-rings installed.
D. The hydraulic-hydrostatic reservoir must be removed from the machine and taken to a company that can adequately clean and core it out, preferably a radiator shop. A copy of this receipt must be forwarded to our company so that we can put it on file. High pressure hosing does not qualify for warranty procedure.
E. All filters must be replaced.
F. All hydraulic-hydrostatic oil must be replaced, preferably with a 30 weight non-foaming rust and oxide oil.
G. The hydraulic-hydrostatic pump or motor must be charged with oil before connecting the hydraulic-hydrostatic lines back to the unit.
H. Any deviation from the above procedures will automatically void our warranty completely.
I. If all the above conditions are met, we unconditionally warrant our product for one full year, parts only. This does not include labor to take off and put on.
J. Warranty is two (2) years if installed by Hydrostatic Transmission Service, LLC.
If you have any other questions concerning our warranty, please let us know. We will be glad to explain the procedures to you.