Sundstrand Sauer Danfoss Series 20 Metric Conversions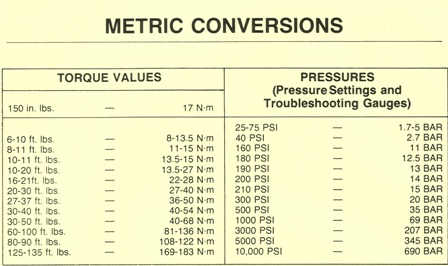 Sundstrand Sauer Danfoss Series 20 Metric Conversions
July 14, 2016
Comments Off

on Sundstrand Sauer Danfoss Series 20 Metric Conversions
At our Hydrostatic Pump Repair Site, we offer many types of Hydrostatic Transmission Repair and information relating to Hydrostatic Parts
Today we will discuss:
Sundstrand Sauer Danfoss Series 20 Metric Conversions
This section talks about torque values, converting it from pounds to N-m. Also taking pressure settings from PSI to BAR.
Hopefully this chart will help you out. If you need more info on this subject, please let us know.
Call 800-361-0068
email: sales@hydrostatic-transmission.com