Sundstrand Sauer Danfoss M46 Fixed Displacement Motor Parts List Diagram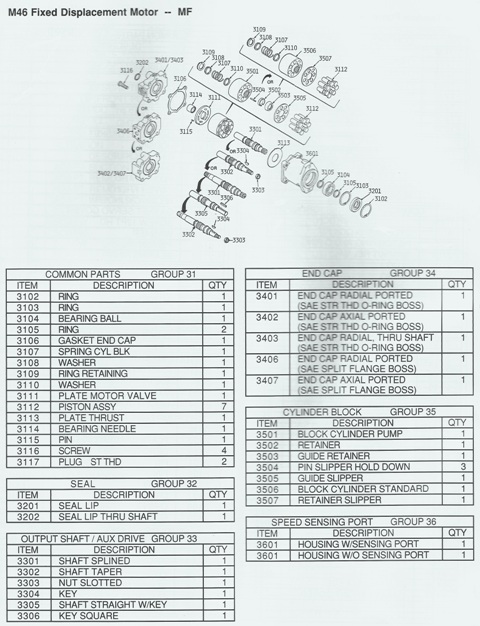 Sundstrand Sauer Danfoss M46 Fixed Displacement Motor Parts List Diagram
May 6, 2016
Comments Off

on Sundstrand Sauer Danfoss M46 Fixed Displacement Motor Parts List Diagram
At our Hydrostatic Pump Repair Site, we offer many types of Hydrostatic Transmission Repair and information relating to Hydrostatic Parts
Today we will discuss:
Sundstrand Sauer Danfoss M46 Fixed Displacement Motor
Parts List Diagram
Here it shows the diagram breakdown and the parts list for the housing and cylinder block and all the smaller parts needed to rebuild or repair your unit.
So if we can assist you with parts or if you need guidance in rebuilding or we can do that for you and we can repair it also. And if you need a new or replacement part, we are your Sundstrand Dealer.
So leave us a comment or give us a call at 800-361-0068
email at sales@hydrostatic-transmission.com