Sundstrand Series 20 Pump & Motor Shaft Seal Alternative Applications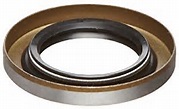 Sundstrand Series 20 Pump & Motor Shaft Seal Alternative Applications
June 7, 2022
Comments Off

on Sundstrand Series 20 Pump & Motor Shaft Seal Alternative Applications
Taking it off
Take off the retaining ring off the pump or motor housing. Make sure to use a snap ring puller, but take off the tangs first on the other side. It will be an aluminum seal retainer, it is put in place by the friction of the oring on the outer diameter. Take off the seal retainer by getting a screwdriver to open it up. The seal that stays on there comes out with the seal retainer, but if it stays on the shaft, you can take it off. Also, take off the seal rings from the pump housing too. The (bronze and it rotates) shaft seal is held o by the oring on the inner diameter. Take off the seal easily from the shaft with a screwdriver or something like it and try not to damage the sealing area on the shaft.

To Put It Back On
Try not to damage or mess up the ID of the pump or motor when you put the seal on. It is always good to take off the stationary and rotating parts of the seal. Don't get your old and new parts mixed up, sometimes they do not interchange with new or older models. Your seal kits have a plastic retainer sleeve to keep parts where they are suppose to be and you can throw away the sleeve when you are done putting it on. Always good to put grease on orings before you put on parts. You need to clean all surfaces of the sealing area and the parts before you put it back together.
Cover the spline or keyed part of the shaft ends with some kind of protective covering so it want get messed up to the seal and orings. Ease off the bronze seal from the seal kit and put it on the shaft with the lapped bronze sealing area out. Look over the assembly and see if the springs are where they are suppose to be. Match up the notch in the stationary seal is aligned with the pin in the seal retainer.
Put the stationary seal and seal retainer assy over the shaft and have it go into the housing so your lapped parts of the steel area of the stationary seal and bronze area of the rotating seal are touching. Get rid of the stationary seal retainer sleeve. Push the seal housing in to condense the springs and unveil the retaining ring that goes into the housing. Put the retaining ring into the housing that has the beveled side out. Put the side of the ring on the other side of the tangs into the groove before hand.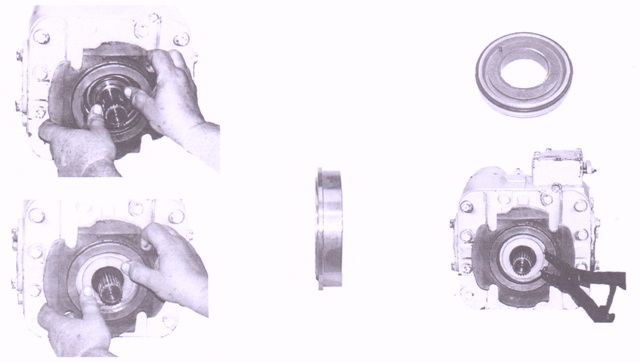 If you need further help with this or if we can install it for you, call us at 800-361-0068
sales@htsrepair.com